Le VTT hors sentiers battus, le Freeride mountain biking tel que connu mondialement, fait vraiment partie de l'ADN des sports extrêmes en Colombie-Britannique.
Imaginez que vous vous lancez dans une descente extrême en ski sauf qu'au lieu de porter des skis, vous chevauchez un vélo et qu'il n'y a pas de neige, seulement des cailloux, du sable et du roc.
Ouf.
Dans son plus récent film intitulé The Moment (Trad. : l'instant), la cinéaste et ex-professionnelle du VTT, Darcy Hennessey Turenne, raconte les origines de ce sport en 1990 à Kamloops, 360 km au nord-est de Vancouver, dans les Kootenay, 720 km à l'est de Vancouver, et dans les montagnes tout juste au nord de Vancouver.
Une affaire de frisson, de pure passion
Le cycliste extrême Brett Tippie est la vedette du film. Il raconte que le sport est né en Colombie-Britannique parce que sa bande de copains s'ennuyait ferme.
« At the time the roads, the trails and the races were not that technical or challenging. We would go up to the top of hills and pick the gnarliest lines that we could and see if we could ride them. Sometimes we couldn't and sometimes we could and the next thing you know we are dropping cliffs. »

(Trad. : À l'époque, les routes, les pistes et les courses n'étaient pas très techniques et n'offraient que peu de défi. Donc, nous nous rendions au sommet des collines, nous choisissions la plus improbable des descentes et nous y allions. C'était parfois possible d'y arriver, parfois non. Mais, en moins de deux, nous plongions du haut de falaises.)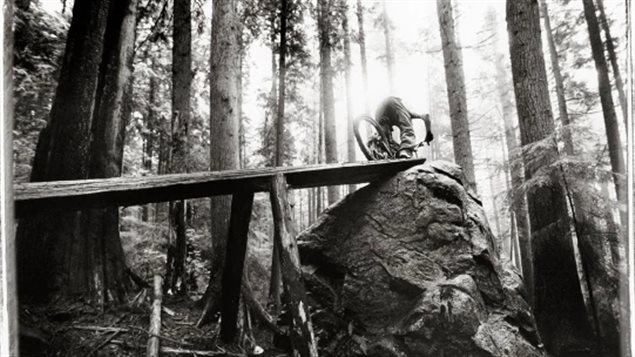 Selon Darcy Hennessey Turenne, Tippie et sa bande de comparses ont créé le style qui fait aujourd'hui école partout dans le monde.
De joyeux drilles toisés et souvent honnis par les propriétaires des terres où ils s'adonnaient ont créé un sport tout comme l'ont fait les planchistes et les surfeurs des neiges.
Sauf que le VTT extrême, lui, est né au Canada.
@kurtsorge full pull practise run looking dialed! I ran up a ridge to get the shot hence the breathing!! Ha ha

Posted by Brett Tippie (official) on Thursday, October 26, 2017
Extrait de la page Facebook de Brett Tippie
Plus:
Qu'est-ce que le downhill (Nakamura)
Le vélo tout terrain (Wikipedia)
RCI, CBC, YouTube